Taft ISD Veterans Day Celebration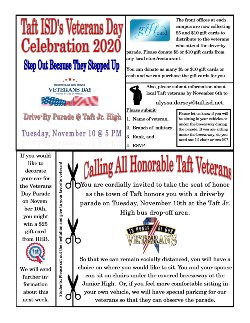 What

Taft ISD Veterans Day Celebration

When

11/10/2020, 5:00 PM

–

6:00 PM

Where

Taft Junior High Loop
This drive-by parade will honor our local veterans in the loop in front of Taft JH on Tuesday, November 10th, at 5 PM.
The front offices at each campus are now collecting $5 and $10 gift cards to distribute to the veterans who attend the drive-by parade. Please donate $5 or $10 gift cards from any local store/restaurant.
You can donate as many $5 or $10 gift cards or cash and we can purchase the gift cards for you.
Also, please submit information about local Taft veterans by November 6th to:
alyssa.dorsey@taftisd.net. Please submit:
1. Name of veteran,
2. Branch of military,
3. Rank, and
4. RSVP
Please let us know if you will be sitting in your vehicles or under the breezeway during the parade. If you are sitting under the breezeway, do you need one (1) chair or two (2)?
Copy to Google Calendar
•
Download iCal Event